We like our martini's dirty... not our water
Capture pipe rust, harsh minerals, and dirt while increasing water pressure and adding Vitamin C-infused water!
Wall Mounted
Shower Head Filter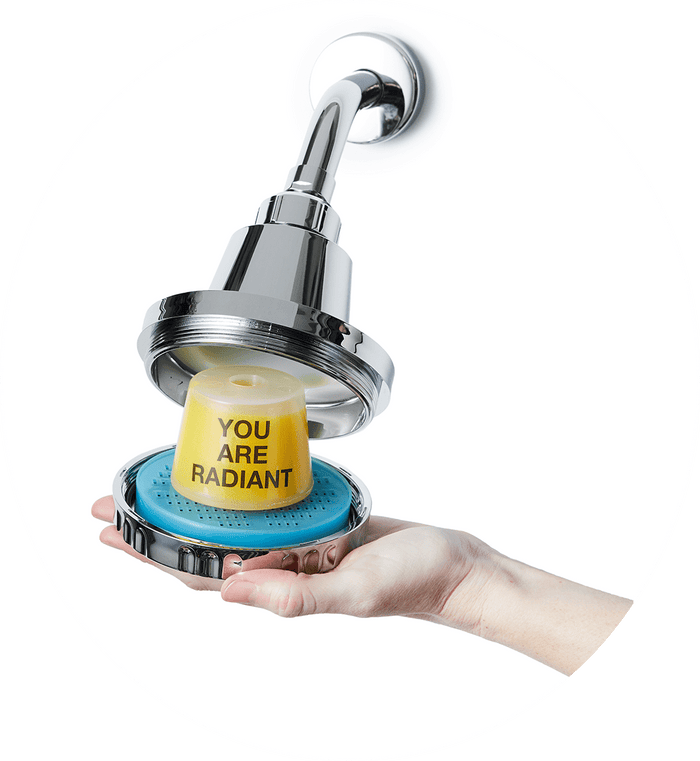 Safe for renters
& homeowners
Universal Fit
for all showers
Built-in aromatherapy
for spa experience
FAQ
The filter is composed of dextrin, pectin, Vitamin C, distilled water, and essential oil.
Vitaclean shower heads fit easily into any standard shower head fixture which the majority of homes have. Vitaclean does not work with an electrical shower. If you are unsure about your shower head fitting, you can email us a picture of your current shower head at customerservice@vitacleanhq.com and we can help you! 
The extra black rubber ring is intended to be placed on top of the shower hose before screwing in your new shower head. This will prevent leakage.
Depending on the amount of times you shower, your Handheld Vitamin C Shot lasts about 30 uses. Your Wall Mount Vitamin C Shot lasts about 90 uses.
If the spray is scattered or your water flow is not consistent we advice you to replace the Microfiber Filter. To replace the filter open the shower head cap by twisting it counter-clock wise and place the new filter.
Vitaclean should NOT to be used with an electric shower.
The Ceramic Balls should be changed every 90 uses. If you noticed the quality of your shower water is more filthy we recommend changing the ceramic balls every 90 uses. For our customers in New York, we recommend changing the cloth filter more frequently or as soon as you notice a change in water pressure. If your stream becomes scattered, please remove the cloth.
Both filters effectively remove water impurities and toxins. The choice of this filter is up to your personal preference. The Antibacterial Ceramic Balls use small ceramic beads to capture bacteria build-up in your shower head.
The Elite Shungite Filter is 98% carbon which helps remove water impurities using a unique and natural mineral. Shungite is also known to have unique healing benefits, you can read more about it on our blog post.
We took the hard work off you hands by offering automated deliveries straight to your door every 3 months. Subscribe and save 20% off your refills.
1. To begin visit ourSubscription Plan page and choose your Microfiber Cloth Pack of 3 for your shower head (Handheld or Wall Mount).
2. Next select which antibacterial filter you'd like to try, Ceramic Balls or Elite Shungite.
3. Choose 3 Vitamin C shots for your Handheld shower head or choose 1 Vitamin C shot for your Wall Mount shower head.
4. If you want to swap out your choice of scents or filters you can easily do so. Simply log into your account by pressing the account icon found at the top right corner of the screen. Once you have logged into your account select Manage Subscription on the top left corner of the screen. Click the Subscriptions tab which will take your Products page. You will find all your subscription items there, to change your shots or filter click the Swap Item button on the right hand side and choose your new item.
5. If you'd like to view your delivery schedule or purchase history, change your billing information or subscription you can do so in your account as well.